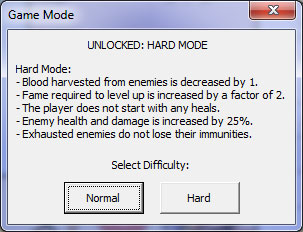 Hard difficulty is unlocked after defeating The Ultimate Evil on Normal difficulty.
Hard difficulty has the following additional challenges:
Blood harvested from enemies is decreased by 1.
Fame required to level up is increased by a factor of 2.
The player does not start with any heals.
Enemy health and damage is increased by 25%.
Exhausted enemies do not lose their immunities.
Ad blocker interference detected!
Wikia is a free-to-use site that makes money from advertising. We have a modified experience for viewers using ad blockers

Wikia is not accessible if you've made further modifications. Remove the custom ad blocker rule(s) and the page will load as expected.